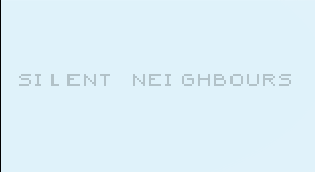 Silent Neighbours
A downloadable game for Windows
Download
Click download now to get access to the following files:
SilentNeighbours_win32.rar
38 MB
SilentNeighbours_win64.rar
43 MB
Exclusive content
Support this game at or above a special price point to receive something exclusive.
Claim the game!
For small amount it is yours forever on your account!
Comments
Log in with itch.io to leave a comment.
Pretty neat stuff, nice visuals.
*Rurr* Hello, I gave the game a try and enjoyed it, albeit, verrrrry short - and also loaded with my theories as to the story ;o Hope you enjoy my take of it!


Silent Neighbors is a cool little indie game that has an ending that can be both expected and surprising!
The game can be completed in less than 15 minutes so it isn't time consuming at all.
The stylized graphics and art style are really cool and they harken back to those 90's Gameboy games. The controls all work fine and nothing appears to be broken or buggy. Even the atmosphere and the music are genuinely creepy, which can lead to a few spooks if you're really into it.
The one thing I would say is that I wish the game was a bit longer and that there were a few interactions that you could do to really become more engrossed in the game.
Other than that, Silent Neighbors is a great example of an indie game that can be both fun and thoughtful and is something that I definitely recommend everyone should play!
I made a Let's Play of Silent Neighbors so let me know what you think and thanks for watching!
It was nice to watch your video, interesting part was that you always were ready to get scared ;D
Hello! I really enjoyed your game, it built a spooky atmosphere really well and was fun to play! I made a let's play of it here~
Thank you for your video, was nice to watch it!
I really loved the idea/plot for this game! I also enjoyed being a grumpy old man, wandering around his house complaining about the noises!
did M Nigh Shylaman(butchered that name I bet) direct this? bet you won't see the shocking ending coming! this game is not what you expect it to be...check it out!!
Thank You for playing the game! And yes, you figured story out just like it was intended to be!! ))
had so much fun with your game thank you so much for sharing it with the world!! had that rare sense of wonder from a twist ending...something that is sadly missing from most games. stay AWESOME and keep making the super AWESOME games!!
Short but I liked the hand drawn art style. Not sure if I fully understood what was going on but I gave it my best shot!
Thank You for making video, I really enjoyed watching like someone plays my game!
I liked your interpretation about things going on there, and I won't say it is totally wrong, but I won't spoil the fun and tell the true meaning ))